Short program: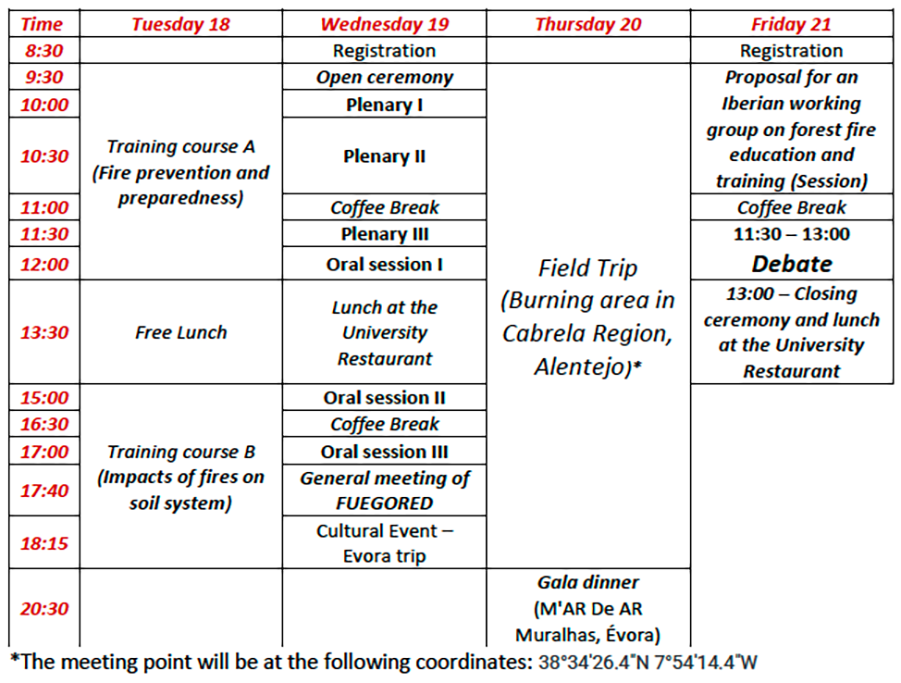 Extended scientific program:
Wednesday 19th October:
8:30 – 9:30: Registration
9:30 – 10:00: Open ceremony
10:00 – 10:30: Plenary I, Dr. José M. Fernández-Guisuraga "Use of remote sensing techniques to evaluate fire impact on vegetation and soils"
10:30 – 11:00: Plenary II, Dr. Jean Baptiste Filippi "Forecasting fire behavior and burn probabilities in a Coupled Fire-Atmosphere decision support system"
11:00 – 11:30: Coffee Break
11:30 – 12:00: Plenary III, Dra. Cristina Santín "What is pyrogenic carbon and why should we scare about it?"
12:00 – 13:30: Oral session I: Chairs "Cristina Santín and Nicasio T. Jiménez"

12:00 – 12:10: Antonio Girona-García "Cost-effectiveness analysis of post-fire soil erosion mitigation treatments"
12:10 – 12:20: Marcos Francos "Effects of wildfire, torrential rainfall and straw mulching on the physicochemical forest soil properties in NW Portugal"
12:20 – 12:30: José A. González-Pérez "Soil organic matter transformations after the Monchique and Casares wildfires"
12:30 – 12:40: José M. De la Rosa "Assessment of fire effects on soil organic matter by FT-IR spectroscopy and thermal analysis"
12:40 – 12:50: Javier González-Romero "Persistence of annual species introduced by post-fire straw mulch treatments in Semi-Arid Mediterranean areas"
12:50 – 13:00: Jorge Matáix-Solera "Soil degradation by fire in the "Pichu Pichu" ecosystem scrubland area of the Andean region of Arequipa (Perú)"
13:00 – 13:05: Sol de Jesus Moreno Roso "Soil burn severity at microscopic scale after a prescribed burn in the Sierra the Manantlán, Jalisco, México"
13:05 – 13:10: Jesús Notario "Effect of ashes in soil chemical properties after a wildfire at La Fortaleza (Teide National Park, Canary Islands, Spain)"
13:10 – 13:15: Andoni Alfaro "Long-term evolution of soil biochemical properties after shrub prescribed burnings in two sites of Central Pyrenees (Spain)"
13:15 – 13:20: Marcos Francos "Minor soil elements in contrasting profiles in an area frequently affected by fire, NE Iberian Peninsula"
13:20 – 13:25: Nicasio T. Jiménez-Morillo "Assessing the molecular markers surrogated to burned soil hydrophobicity mass spectrometry"

13:30 – 15:00: Lunch at the University Restaurant
15:00 – 16:30: Oral session II: Chairs "Jorge Matáix-Solera and Rui Salgado"

15:00 – 15:15: Nuno Guiomar "The challenges of fire severity assessment"
15:15 – 15:25: Oscar González-Pelayo " An approach for linking satellite-derived wildfires severity with field estimates"
15:25 – 15:35: Melissa Méndez López "Mobilization of Hg by sediment dragging after a prescribed fire in the NE of Portugal"
15:35 – 15:45: Caroline Poyntner "Fire impacts on a non-adapted Alpine Forest soil"
15:45 – 15:50: Gael Bárcenas-Moreno "Soil pH and vegetation influence on post-fire microbial response: a laboratory heating experiment"
15:50 – 15:55: Juan Carlos Nóvoa "Mercury distribution and mobilization in sediments by the use of prescribed fires in the Hakea sericea alien species exclusion in Central Portugal"
15:55 – 16:00: Flora Alonso Vega "Influence of size sediments and rainfall characteristics on total carbon mobilization after prescribed fires in Hackea sericea alien stands of central Portugal"
16:00 – 16:05: Carlos Pinto Gomes "The role of silvopastoral activity in valuing ecosystem services and preventing fire in Southwest Iberia"
16:05 – 16:10: Eduardo A. Garcia-Braga "Potential combustion energy measurements in Cadiretes Massif. North-east Spain"
16:10 – 16:15: Cátia Campos "Meteorological conditions during mega-fires and pyro-convection in Portugal in October 2017"
16:15 – 16:20: Mariana Custodio "Wildfire fluxes evaluation during strong pyro-convection activity in Portugal"
16:20 – 16:25: Filippe Santos "Applying remote sensing information to build fuel load and fuel moisture maps over Portugal"
16:25 – 16:30: Masud Rana Rashel "Identifying the Occurring Probability of Wildfire using Artificial Intelligent based Embedded System with Wireless Mesh Sensor Networks"

16:30 – 17:00: Coffee Break
17:00 – 17:45: Oral session III: Chairs "Xavi Úbeda and Nuno Guiomar"

17:00 – 17:10: Jacob Keizer "The role of soil burn severity in overland flow and inter-rill erosion in a eucalypt stand during the first three post-fire years"
17:10 – 17:20: Antonio Peñalver-Alcalá "Long-term soil recovery capacity after wildfire with soils exposed to different fire severities in Catalonia, Spain"
17:20 – 17:30: Gabriel Sigmund "Fire derived pyrogenic inputs and their possible effects on river functioning"
17:30 – 17:35: Sara Perestrelo "A Percolation Approach to Describe Fire Spreading in Heterogeneous Landscape"
17:35 – 17:40: Carlos Cabo Gómez "The use of dense 3D point clouds in fire science"
17:40 – 18:15: General meeting of FUEGORED
18:15: Cultural event (Evora trip)
Thursday 20th October:
9:30 – 18:00: Field trip  Burned area in Cabrela Region, Alentejo.
Description: Visit to an area burned in July 2022, in Cabrela (~50 km from Évora). The fire spread in a mixed forest stand with stone pines and cork oaks in sandy soils, and a small area covered by eucalyptus. Surface fuels were essentially composed by pine needles with a few scattered shrubs.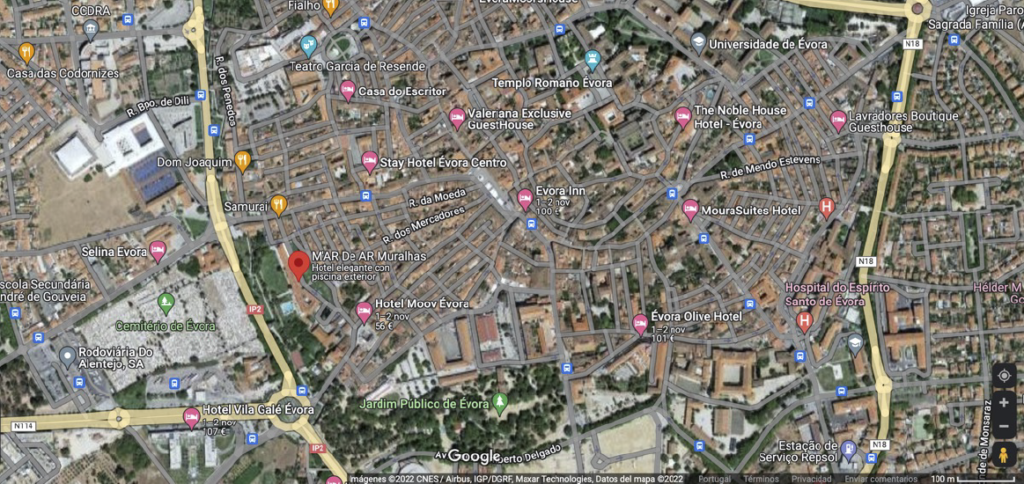 20:30: Gala dinner, Restaurante Hotel M'AR De AR Muralhas, Évora
Friday 21st October:
9:30 – 11:00: Proposal for an Iberian working group on forest fire education and training – session
Education and training on forest fires in Spain and Portugal.
In this round table, the results and challenges of different initiatives (programmes, activities and practices) on forest fire education will be exchanged. The training proposal of the working group will also be discussed. During the session, a survey will be distributed to identify training and education needs.
Different actors related to forest fires (administration, students, landowners, researchers, NGOs) will participate in the round table and the results of current educational projects (Riscos, Edufire, Plantandocara al Fuego) will be presented.
11:00 – 11:30: Coffee Break
11:30 – 13:00: The future of forest fires in the Iberian Peninsula – Debate
The main goal of this debate will be to know and foresee the future of forest fires in the Iberian Peninsula, as well as to try to establish the adequate measures to "coexist" with the new generations of wildfires. Researchers from different national and international institutions, firefighters and journalists will participate in this debate.
13:00: Closing ceremony and lunch at University Restaurant